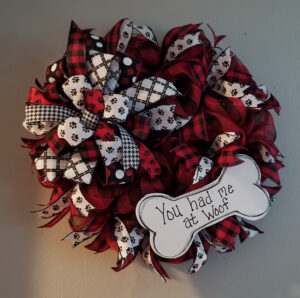 DOG THEMED WREATH RAFFLE
WINNER WILL BE DRAWN AT THE AWARDS BANQUET ON FEB 8TH
Winners need not be present, however, gloating will be much easier if you attend.
TICKETS ARE:
$1.00 EACH
$5.00 FOR SIX
$10.00 FOR THIRTEEN
$20 FOR TWENTY-FIVE TICKETS
PLEASE CONTACT TAMI WOODROW (tbrown2126@aol.com) with questions or to buy in person without fees.
CLICK HERE TO BUY ONLINE (with paypal fees, sorry!)
Must not be a member, no need to log in. Share it with your friends!