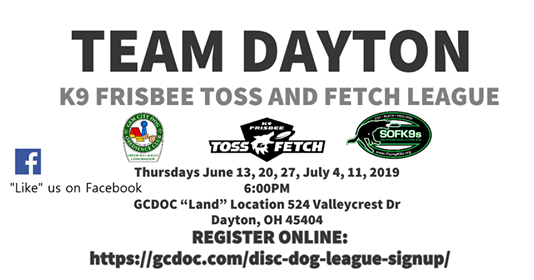 Team Dayton's K9 Frisbee Toss and Fetch League is going to be using our Land this June/July! We are very excited to welcome this new fun dog sport to our club.
You can join us! Your dog must:
Catch a frisbee in the air (that you need to be able to throw for them!)
Have EITHER finished Advanced beginner OR have participated in the league before
All dogs will remain on leash/crated/secured in the car unless they are IN the ring alone.
For more information, questions, etc. please contact Bob at rbrtryn@aol.com
Spaces are limited. Sign-ups will fill quickly. $25 or a voucher to join, $10 due the night of class for league fees.